The Wallace Hart investment approach is focused on absolute return across market conditions. We focus on a range of strategies for different stages of your long-term investment horizon:
Our wealth creation strategy is focused on the long-term growth potential of leading U.S.-based equities. We scour the market to select a diverse range of leading stocks and ETFs, which we feel have long-term growth potential.
These stocks are selected on our relative strength criteria, exhibiting innovative growth potential over a longer-term investment horizon. We feel that this approach offers both the benefits of diversification and the right amount of concentration to benefit from growth opportunities.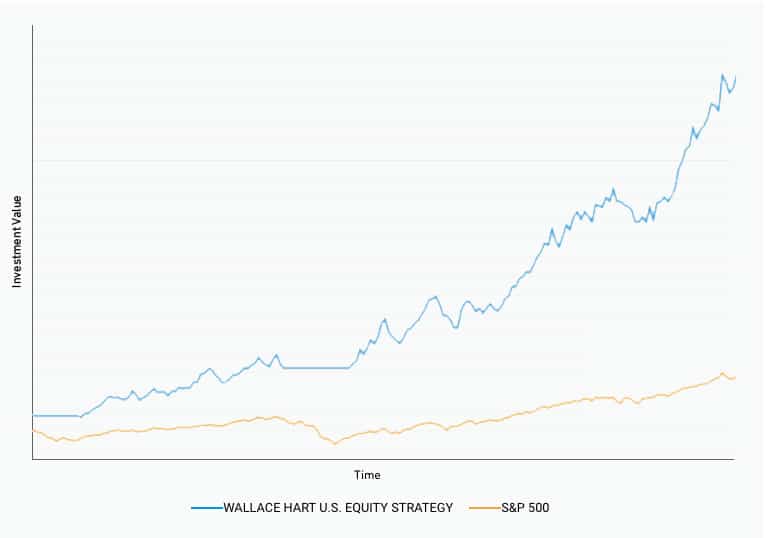 At Wallace Hart we take extensive measures to understand your life priorities and preferences to preserve your wealth in today's volatile markets. Our investment philosophy is dynamic in nature and can move to cash when the market exhibits negative signals. In fact, if signs of a significant downturn in U.S. equities persist, the account can be moved to 100% cash.
Guided by technical signals from the market and decades of hands-on investment experience, our approach aims to grow your account when the market trends upward and preserve it when the market is in a downturn. This approach was created to help investors avoid major market downturns, such as in 2001 or 2008, yet still participate in the ensuing rebounds.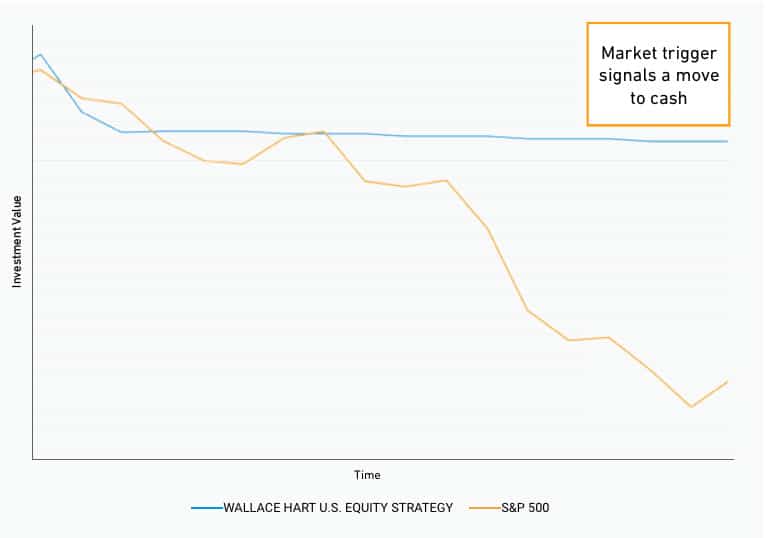 Wallace Hart understands that income generation is often a key goal and always an important part of a comprehensive long-term investment plan. As part of a holistic plan, we look at investors' entire portfolio, incorporating Social Security and any pension-based income to satisfy income needs. Given our equity-based strategy, we can also enact a systematic withdrawal system, where we take profits and capital gains as income, rather than a dividend approach.
With our Tax Smart Retirement Paycheck we are able to show investors when and where they should take money from to be most efficient. At Wallace Hart, cashflow planning is part of our financial process, and we will make sure you and your family are set for the years ahead.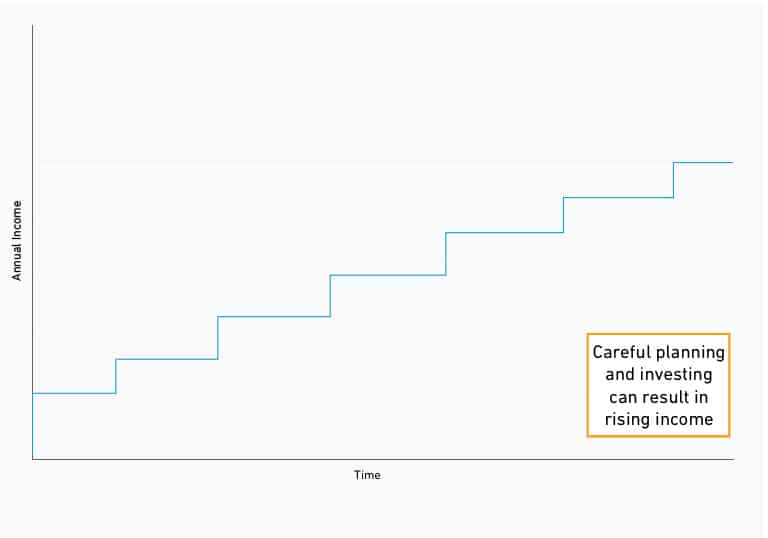 Alternative Investments
We understand the importance of developing and maintaining a well-diversified portfolio to preserve wealth. Alternative Investments is an asset class that can help certain accredited investors improve diversification and increase risk-adjusted returns. The strategy aims to achieve capital appreciation with minimal drawdowns by implementing a systematic strategy where we tactically allocate to publicly traded companies.
We utilize eight proprietary, quantitative models that work together to help narrow the opportunity set of investable mid and large-cap companies listed on major U.S. exchanges.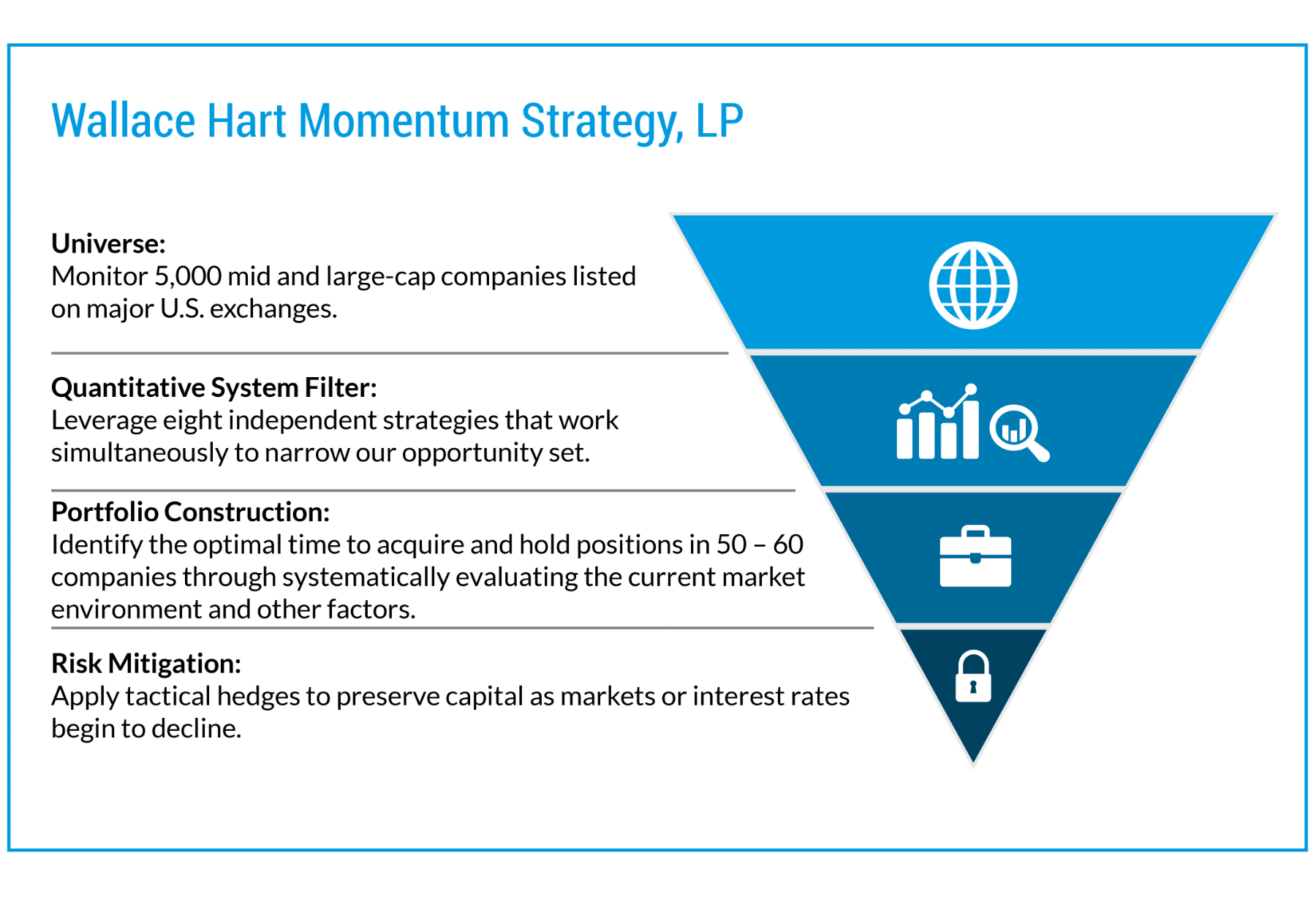 Accredited investors, please click here to learn more about the Wallace Hart Momentum Strategy, LP or contact us here.
Disclosures
The performance results shown are those of a model portfolio based upon Wallace Hart's proprietary investment strategy. The performance results are presented "net" of Adviser fee withdrawals. The data presented does not reflect the deduction of other fees or expenses; provided, however, that it is not expected that a client will incur additional fees or expenses, including fees for brokerage and custody services, a client may incur in the management of such client's investment advisory account, as further described in Part 2 of Wallace Hart's Form ADV. A client's return with respect to an investment would be reduced by any fees or expenses a client may incur in the management of its investment advisory account. The performance results include the reinvestment of dividends and interest on cash balances where applicable.Performance results shown for dates 1/1/2000 to 11/2/2012 are back-tested. This historical returns data has been compiled using data provided by a third-party source that calculates the data using price data provided by exchanges and not from actual accounts, and, should therefore be considered to be hypothetical. Although the source is deemed to be reliable, no representation or warranty, express or implied, is made as to the accuracy, completeness or correctness of any data presented. Back-tested results do not reflect actual trading, or the effect of material economic and market factors on the decision-making process or the skill of the investment adviser. Trades have not actually been executed, and back-testing allows the security selection methodology to be adjusted until past returns are maximized. Actual performance may differ significantly from back-tested performance.
All performance results are unaudited and are not an estimate of any specific investor's actual performance, which may be materially different from such performance depending on numerous factors. No representations or warranties whatsoever are made by Wallace Hart or any other person or entity as to the future profitability of an investment account or the results of making an investment. All information provided is for informational purposes only and should not be deemed as advice in relation to legal, taxation, or investment matters Past performance is not indicative of future results.
The S&P 500 Index (the "Index") is an unmanaged index that is used as a general measure of market performance, and its performance is not reflective of the performance of any specific investment. The Index comparisons are provided for informational purposes only and should not be used as the basis for making an investment decision. Further, the performance of our strategy and the Index may not be comparable. There may be significant differences between the strategy and the Index, including, but not limited to, risk profile, liquidity, volatility and asset comparison. The performance shown for the Index reflects no deduction for client withdrawals, fees or expenses. Accordingly, comparisons against the Index may be of limited use. Investments cannot be made directly into the Index.
** Not representative of actual data. **